Houston Area Convention of Narcotics Anonymous
HACNA Upcoming Events
HASCONA invites you to a "Rockin New Years Party!"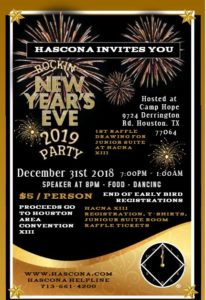 Click

 on the menu bars at the top of the page for details. Then click on the event to see, and /or download the flyer and get direction. 
About the Committee
Click on the HACNA Guidelines link to review the policies.

The Serenity Keeper Chairperson is in need of volunteers.




Please Contact Lance T. at laancetee2005@gmail.com.
I look forward to another opportunity to serve our community.
Alan P